Clip EF 137
Order this clip
Effi inflates 2 huge beach ball rock hard on an inflatable swan
MP4 1280 x 720
404 MB
Riesiger Wasserball, einige Male in Filmen verwendet. Hatte durch zu hartes Aufblasen ein Loch bekommen, ist aber repariert. Verliert dort noch etwas Luft.
Huge beach ball, used in several videos. Has got a hole. It's repaired but the ball loses still a little bit air.
Japanischer Schwimmring, wurde in einigen Filme verwendet. Verliert an einem reparierten Loch etwas Luft. Nachbessern problemlos.
Japanese swim ring, used in some videos. Loses a little bit air at the repaired hold. Easy to fix it perfect.
Clip BU 086
MP4 1280 x 720
494 MB
Clip EF 134
MP4 1280 x 720
294 MB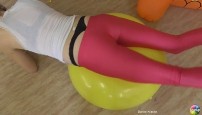 Clip EF 068
MP4 1280 x 720
603 MB
Data volume: 238470
GB
Clips: 538
Preview clips: 557
Pictures: 20619
Released: 14325